Providing Services to Individuals across the Lifespan
All About You Home Care Services has a highly skilled, multi-disciplinary team that provides ongoing shift care to patients in need of supported living in their home; replacing the need for institutionalized living.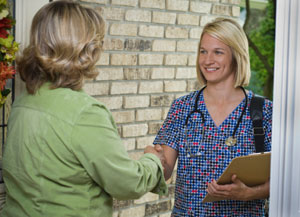 Our nurses undergo an extensive written and hands on competency screening prior to providing services in the community.  Our staff includes Advance Practice Nurses, registered Nurses, Licensed Practical Nurses and Certified Nurse Aides.  The type of nurse selected is determined by the patient's needs and level of skill.  We work as a team with the family, the physician and other health care professionals to coordinate and implement an individualized care plan.  No matter what apparatus is needed to sustain life, our professionals are first in High Tech Care at All About You.
Who pays for these services?
Most private insurances
School Contracts
State funded programs
Private Pay
What are the qualifying factors?
Most insurance companies including state funded programs require individuals to be medically dependent such as ventilators, G/J tubes and Trachs.  For further inquires contact us at 1-866-AAY-CHCS. (1-866-229-2427)