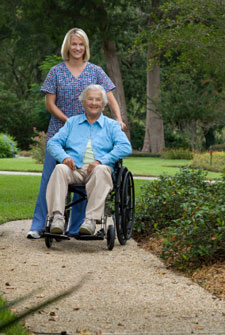 The rehabilitation department of All About You Home Care is comprised from a multidisciplinary team of physical, occupational and speech therapists who share a common comprehensive approach to your individualized care.
Each member of the team will work closely with your physician, nurse and especially you to develop a treatment plan to reach your goals.  Whether your goal is to improve your ability to walk or increase your independence in your home, the rehabilitation team can help.
Physical therapy assists patients to discover their maximal physical abilities along with minimizing pain or fall risk often associated with movement disorders, a physical therapist's specialty.
Occupational therapy improves function in the home through the implementation of therapeutic techniques, adaptive equipment and home modification recommendations. The rehabilitation team works closely with the medical equipment suppliers to help you make informed decisions on equipment needs and their direct application to improve your independency and safety.
Speech therapy will develop a comprehensive plan to minimize the effects of diminished speech, swallowing difficulties and cognitive limitations associated with many disorders such as stroke, Parkinson's disease and Alzheimer's disease.
Respiratory Therapy